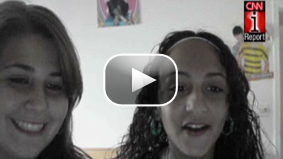 Dohaa and Michelle weigh in on the hugging controversy at one Arizona middle school, and they give a little Shoutout to Carl.
Earlier this month, a lot of you weighed in on a story about hugs being limited to two seconds at an Arizona school.  We saw responses varying from students who hate hugs to those who hate not being allowed to hug.  What we've posted here is an iReport featuring two Florida students' opinions on the topic...along with an opinion on a certain CNNSN host.
Thank you both for your kind words, though I'm a little embarrassed and getting teased NO END by my coworkers!
 Carl Azuz, Anchor